I'm currently studying about Fauvism for my exam and in my opinion, it's one of the most interesting styles.
Fauvism is the name applied to the work produced by a group of artists (which included Henri Matisse and André Derain) from 1905, which is characterised by strong colours and fierce brushwork. The name, meaning "the wild beasts" was coined by the critic Louis Vauxcelles when he saw the work of Henri Matisse and André Derain in an exhibition in Paris and thought those paintings were like a "wild beasts" compared to Donatello's sculptures. Those paintings were made using bold, non-naturalistic colours (often applied directly from the tube), and wild loose dabs of paint. The forms of the subjects were also simplified making their work appear abstract.
Henri Matisse was one of the most important artists and he got famous for his first painting, Luxe, Calme et Volupté.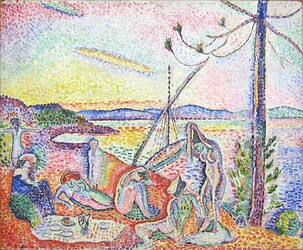 Here are more of his paintings:
The dance
Harmony in red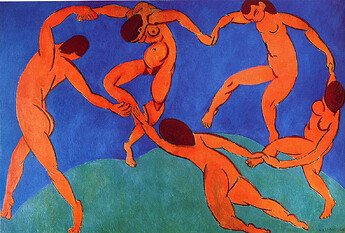 So, I wanted to see what do you think about this? Do you like it?
Have you ever heard of this style before? Have you ever seen these paintings?