What have you been watching lately? Have you checked any movies? Any new seasons of shows you've watched?
Anyone watched that new movie Tall Girl? What are your opinions on it?
Haven't watched Tall Girl, but watched the series Dead To Me and liked it, even though it was darker than I expected.
Also caught up on Dear White People season 3 and GLOW season 3, which I loved!
For movies, I saw Someone Great and I liked it mostly, but wished it focused on their friendship more than the dude.
Starting Special because I've liked the creator's/actor's writing. It's so far interesting because the episodes are only like 15 mins!
I watch the Office, Parks and Recreation, Stranger Things, and Supernatural for TV shows
Well um I watched End Game finally lmao
Watch Bojack Horseman
That is all I have to say.
Apparently Tall Girl is bad. Is it bad?
I think it could be bad.
I watched like two Netflix original anime series ever and they were both subpar. Netflix needs to up their game on Japanese media. Death Note, guys? Seriously? Fullmetal Alchemist the film as well? Seriously guys? Netflix is a trashfire travesty in regards to Japanese media.
Their films tend to be aight
Tbh, I'm not sure if the movie is trying to say "being tall is cool!!! be happy with your height" or "be happy with your height but date someone taller than you just in case". And the movies' ending is weird af, she ends up dating the short guy, who's basically a nice guy that doesn't take no for an answer. He manipulates the tall Swedish guy to be a jerk so he can date with Jodi himself. Weird movie for sure.

I am currently watching Vagabond because it stars two of my favourite Korean actors and I adored Suzy's acting in WYWS. I'm also watching ODAAT and it's sad to hear Netflix cancelled it.
I recently finished Disenchantment, B99, and a few others I can't remember

I have a habit of just playing things in the back whilst I do something else but I paid more attention to those twix
Omg Bojack is so goooooood. Depressing af but so good!
Brap brap pew pew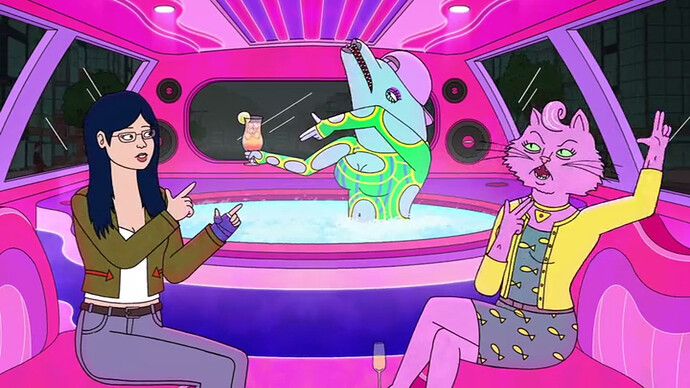 Oh and I forgot to mention the most awkward cringe painful and yet hilarious show, I Think You Should Leave with Tim Robinson
This is my favorite sketch: 'Focus Group' Sketch | I Think You Should Leave w/ Tim Robinson | Netflix Is A Joke - YouTube
I tried watching Bojack but then the bed scene came on… and I was traumatized because of this man-horse doing…

I'm gonna give it another shot though, I heard it represents mental health good (at least better than 13RW) on a YT review.

I really liked Tuca & Bertie for an accurate depiction of anxiety and mental health portrayal (plus, def less graphic).
But yeah, if you can past how gross Bojack is as a horse person, I think it's an amazing show.
I recently watched Christopher Robin. I highly recommend.
In case anyone here is interested in it…
Bump
I watched Impulse. It's youtube series tho. Binged whole 2 seasons. I wouldn't say it's very good. The concept is good, but execution could've been much better. Mainly I watched it cause I got these dark "Jessica Jones" vibes. But MC is kinda asshlish and selfish he.
I also checked 3 episodes of Batwoman, mostly because of the controversy surrounding it. It wasn't as bad as I expected. It has some very cringy moments, especially in the 1-2 episodes, but it's watchable. Main character tho is like a dead fish. I find her unrelatable, and I dunno why exactly. Might be the awful play of Ruby Rose, or the writing. Won't be watching it anymore.
Also, previous weekend I binged all 4 parts of Purge, which I found enjoyable. It's rare, but I think that 1st movie was the worst. It wasn't bad, but the rest 3 movies were much better since they show the political side of the plot.
p.s. i just realized it's about netflix content, but oh well.
End of the F*cking World is really dark and funny and man, I just hope it works out… just started the second season and had low hopes but it's good, too!!!
Added "film" and "shows" tag
Important question: Who's been binge watching Victorious now that it's on Netflix?

I just watched the first episode last week!
I'm obsessed with Explained and Patriot Act because I feel like entertainment + learning is amazing.
Anyone watch either of these?