In January 2022, Webtoon released three series in collaboration with the HYBE Corporation, a South Korean entertainment company. The three series are 7Fates: Chakho, The Star Seekers and Dark Moon: The Blood Altar and each series featured characters based off of the members of some of HYBE's K-pop boy groups. 7Fates featured BTS, Star Seekers featured Tomorrow X Together and Dark Moon featured ENHYPEN. The series are currently on hiatus but are set to return in June.
These are the promotional posters that were made, with the ones on top being the groups themselves and the ones on the bottom being the characters they represent within the stories: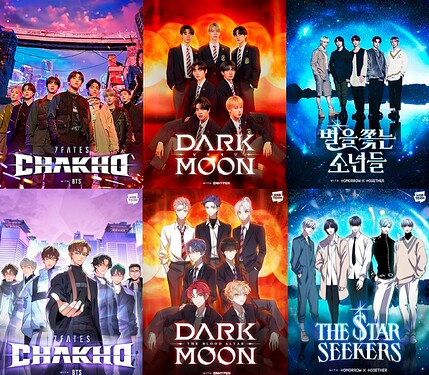 Here are the synopses of the series, as well as the names of the characters in bold and the members they represent (For easier recognition, I only included the members' stage names):
7Fates: Chakho

Synopsis

In the corrupt city of Sin-si, Zeha suddenly wakes up in a hospital, unable to recall anything that happened after speaking with a mysterious man one night. He soon learns that strange beings called beom are wreaking havoc on the city. As destiny brings seven boys together, will they succeed in ending this fight, once and for all? Let the hunting begin!

Characters

Dogeon = RM
Hwan = Jin
Cein = Suga
Hosu = J-Hope
Haru = Jimin
Joaan = V
Zeha = Jungkook
The Star Seekers

Synopsis

It's the age of magic; a world where magic idols prevail. In these extraordinary times, an ordinary idol group called Star One is suddenly gifted with magical powers. And with these magical powers, a mysterious enemy appears. The once unpopular idol group finds themselves tasked with saving the world. Will they be able to take on this enormous responsibility to restore peace?

Characters

Soule = Soobin
Eugene = Yeonjun
Viken = Beomgyu
Taho = Taehyun
Avys = Hueningkai
Dark Moon: The Blood Altar

Synopsis

Welcome to Riverfield, where the most popular boys at two rival schools happen to be vampires and werewolves. When a mysterious new student, Sooha, transfers to Riverfield, the rivals find themselves inexplicably drawn to her. As horrible incidents start to shake the town, the boys' forgotten pasts slowly start to unravel… and their world turns upside down.

Characters

Jakah = Jungwon
Heli = Heeseung
Jaan = Jay
Jino = Jake
Solon = Sunghoon
Shion = Sunoo
Noa = NI-KI
---
Have you read any of these series?
If you have, what are your thoughts?
If not, would you?
---