So, I will be talking about a handful of writing programs that I think are interesting to try out. Some programs will be through apps and others through the computer. This is different than using Storyboarding programs. If you are looking for that type of planning program then please click here Using Storyboard Apps to help with your writing! for that thread. Organizing your writing can be extremely hard to do if you don't have a good understanding of how to keep everything together. For instance, I use to write on paper a lot during school when I wrote my story. I kept it all in a folder which I kept on me almost all the time. I would write parts on paper and then transfer them to the computer for safekeeping. This was something I kept up all the way until about roughly 4 years ago. I lost the physical folder with all my writing in it. Luckily, I transferred most of it to my computer except for the small parts. I lost a picture an ex-boyfriend drew for me since I loved wolves which I kept with the stories too. I did a great job keeping it safe too…Oh well, ever since then I've been looking for better ways to organize. I used google docs for most of my writing since it is easy to use but it was hard to keep up with all the parts for just characters, races, ideas, and actual writing documents. Then adding everything else on top that I use google drive for made it very hectic. So, I decided to do some digging around. I found apps I have tried myself plus ones I have read about. I will explain the ones that caught my attention the most.
Top Ones I Recommend to be used together or separately:
Dabble Writer is a recent writing software I found. I like the setup of the whole website. The one downside of the program is that you have to pay for it. You have three different ways to do so which can be looked on up on the main website below. You can keep your data stored in the program which doesn't take up a lot of space since it's a browser format. You can export it to Microsoft word when you are ready to do that. I would say that dabble is great for working on the main story parts. I would suggest using more detailed character development/scenes/locations apps to make the experience more well-rounded. The picture below shows you what folders you can use to work with. I would watch the reviews. I'm trying it out for the month for now. I will update everyone with my input about it. You can make this into a mobile app. It's a similar setup to how the discourse mobile apps work. By the way, the price is the exact amount advertised with no added fees.
Preview for the Software: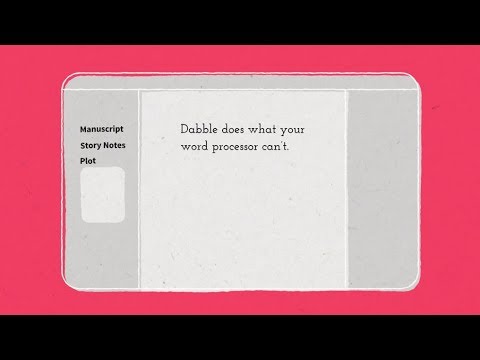 Dabble Recommended Real Youtube Reviews of its software:

Pluot App is an interesting app that I found in the google store. This is only used for android devices sadly. It's a really good app to pair with software programs like dabble writer or even use with google docs even. In the app, you can make characters by using multiple questions they provide you to fill out about your character. This helps so much with character development! Also, you can write out your points for your storyline by following the prompts it gives. This is useful when you aren't sure about what your main points should be. There are many more features to this app! You can add this device to your laptop if you get an app player such as bluestacks app and other apps similar to that. It's completely free to use! The only part that you have to pay for is if you want to use share your outlines between devices. It's only
2.99 a month to do so or 29.99 a year as well.
*Google Docs from Google drive is one of the easiest methods to use for writing. You can access it on any device where ever you go as long as you are signed in to your account. I group my story documents into folders that way I don't lose them under the unknown document title docs. It's perfect for writing on the go with a simple writing setup that is similar to Microsoft word. Though there are some pitfalls when it comes to breaking the work up into sections. Such as, if you are trying to make a locations document then it just ends up looking exactly like your story but the content is the difference. It doesn't give you any prompts to work with, or templates to use if you were looking for something specific, plus little stuff like that. Other than that small point google docs in google drive is a good way to write with. I would suggest pairing this with pluot so that you can put the parts it covers there while focusing on the writing main parts in google docs for your stories.
Apps that are similar to Pluot:
https://play.google.com/store/apps/collection/cluster?clp=ogoeCBEqAggIMhYKEGFwcC5jb3JkZXMucGx1b3QQARgD:S:ANO1ljL8DEA&gsr=CiGiCh4IESoCCAgyFgoQYXBwLmNvcmRlcy5wbHVvdBABGAM%3D:S:ANO1ljInKYg
Other Writing Software similar to Google Docs and Dabble:
Other Writing Apps and Writing Development Apps for mobile devices:
@Writers please tag anyone you think would need this information for writing!
@CrazyCaliope you can share this with the rper's as well. Some of the mobile apps are aimed to the rping community!